Rick MORTENSEN
from Phoenix is one of the longest involved guy with the VW scene... Rich entered recently in touch with me and informed me that he has some great old pictures dealing with VW Gassers... I quickly answered to show my interest and Rich was kind enough to let me share the following pictures with you all.
A
s you will recognize, his pictures are out of this world...
I
have to admit it's becoming more and more difficult to locate old VW Gassers pictures and we have to send a big Thank you to Rich!
R
ight picture : Wow!
Orangasum
bug! It's the only picture of that bug I have ever seen... And boy, it sure looks awesome! The car seems to be a late model bug and it is gorgeous with that top chopped roof... Note the late model fiberglass decklid! If you need inspiration for your next project, copy this one...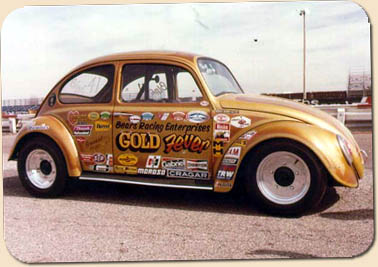 L
eft picture :
Gold Fever
bug as its best! Wow, what a great looking car... Gold color is one that suit best the little bug...
I
can't resist to add for reference two additionnal pictures (thumbnails...) of that great Bears Racing Enterprise bug.
- The fantastic B&W one comes from
Glenn MILLER
and show Darrell VITTONE wrenching.
- The wheelie one at Winternationals comes from an unknown source...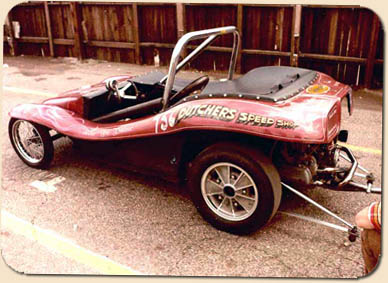 R
ight picture : Another amazing picture by Rick... Yes, what we have here is the infamous Dune Buggy of
Jim DUTCHER
. This state of the art fiberglass auto was one of the most successful machine at the Bug-ins and was one of the crowd favourite... Easy to understand why.
Watch out for a full feature on this one later!
I
n the meanwhile, have a look at the front and rear rims... Perfect combination : Spindle mount type in a pure gasser type at the front, and BRM at the backs... Seems that steering was not very important...
I
have no idea what kind of buggy body is used but it sure looks the part. The taillights came from a US car... And I always loved dune buggies with Detroit type taillights. So nostalgia...
B
elow picture :
Lil Red
white top chopped gasser in all its glory! This car frequented early Bug-ins... As Rick quoted, note the typical overcast bug-in morning on this picture... As far as I'm concerned, I think that the top chop is just perfect as the curves are real close from the original bug lines...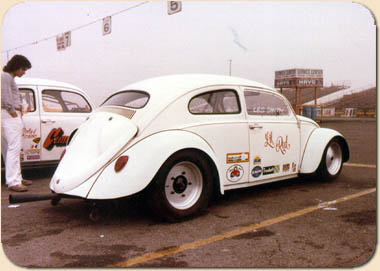 Below thumbnails...
Dragster time...
-
Von ROLLINS
"Imagination" was one of the early dragsters built and run at Bug-Ins. They had an automatic with custom aluminum reduction gears that actually reversed the rear wheel direction. This allowed the automatic to run in it's normal configuration, and the reduction gears reversed the rotation allowing the automatic to set in the frame with a mid engine configuration. It was very creative...but not one of the faster early dragsters.
- Early
FAT Performance
water-cooled rabbit motored dragster at a Bug-In.
Own some Bug-ins pictures, just feel free to email them to me and they will appear here...
---
Copyright © 2003 El Dub - Tous droits réservés.

E-mail : eldub@cal-look.com