at the Bug-ins... Not everyone cup of tea (and definitely not mine in fact) but those were the days...
F
iberglass accessories were
de rigueur
.
Perry BRONSONS
Fat-Pak Split being admired at the Bug-In, 1970. BRONSON along with Fiberglass Specialist
Don ROUNDTREE
were the first to mass produce VW Bug superwide rear fenders, The Bronson Fat-pak !!!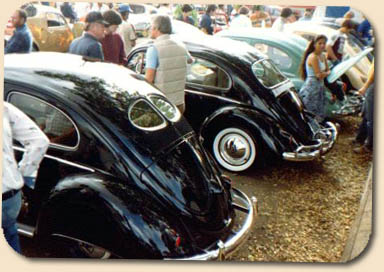 S
ome very interesting pictures of VW Kit cars which were very popular back then... The first shows a part of the show reserved to what seems to be Kelmark GT... The second shows another VW based kit car : the Bugatti replicas which were offered by Bay Products Corporation for 750$...
Own some Bug-ins pictures, just feel free to email them to me and they will appear here...
---
Copyright © 2003 El Dub - Tous droits réservés.

E-mail : eldub@cal-look.com