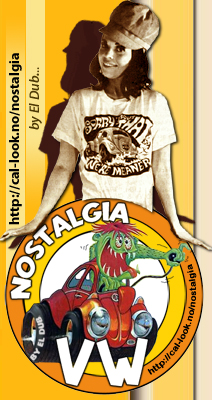 El Dub's Nostalgia corner.

Meetings, cars...

Treasures from the past.

Memories, people, meets.

H/Gas, I/Gas...

EMPI, Auto-Haus, R/S...

BUG INS MEMORABILIA

BUG INS PROGRAMS

Programs edited by Bug-ins promoters at each edition are part of the Bug-in history.

Unfortunately for us, these programs are simply impossible to locate these days. Is it really a surprise, as, honest, what are we all doing with the various Programs edited today... Well, I'm sure you see what I mean...

Thanks to some buddies, here are some great Programs covers...

Many Thanks to KOBUS, Steve WALKER and Fabian DEWAR.





Every little thing stamped with the Bug-in logo is highly collectible today with prices out of this world...

If you want to starts a collection, here are some ideas... Adverts

.

Dash Plaques

.

Programs

.

Cool Stuffs

.

KOBUS Programs
A
nother time, we have to admit that
KOBUS
got one of the most complete collection of memorabilia... Just look at his programs... Who said crazy...

Steve WALKER Programs
Steve WALKER
is a very good friend of mine just coming from sunny Las Vegas... Steve was friendly enough to send me some pictures of his old programs he used to keep since these old days... Thanks so much Steve...

Fabian DEWAR Program 18
This Bug In 18 program is owned by my buddy Fabian DEWAR from Belgium. Fabian was friendly enough to scan all the pages of this program and sent them to me by email. Thanks my friend Fabian for such a piece of VW history.

18th edition of the Bug-In was held at O.C.I.R. in Spring of 1977. Major event sponsor was the SCAT company. Following a disastrous Bug-In 17, organisers Vic WILSON and Rich KIMBALL were hard at work making the 18th edition the best to date. With more than 700 entries, this Bug-in was an instant success.

As far as drag racing is concerned, this edition saw an incredible battle between Gary & Gene BERG at the wheels of the legendary black family '67 and my favourite Lee LEIGHTON red VW, battle who saw the final win of the red one. See above pictures from August 77 Hot VWs. The same Hot VWs spoke of "Matchrace of the century". Famous racers and cars were part of the show : what about Steve TIMS in Mean Machine Ghia, Lloyd MOSHER in Little Giant Killer Red VW powered Fiat, Bill BUNCAN in black Madness, Jim DUTCHER wild buggy or Dave KAWELL in Hot Sauce buggy to name a few... Where are those machinery today???

In the car show, Best of show honors, as well as Best Full Custom, went to the best Top chopped bug you could ever meet : D.K.P. AL MARTINEZ Black top chopped bug. I found pictures of this car some times ago, and all I can tell is that this car was awesome in every aspect. More on this one soon...
To be continued soon for the second part of the program... If you own such programs, I will be glad to publish them here...
---
Copyright © 2003 El Dub - Tous droits réservés.

E-mail : eldub@cal-look.com