from Phoenix with a great collection of plaques. Amazing find for sure. Hey Matt, they would look great on my car ;)
Frenchy DEHOUX
from Phoenix own a complete collection of plaques (see picture on left), and has stacks (yes, stacks) of these little gems in his garage. Lucky Frenchy...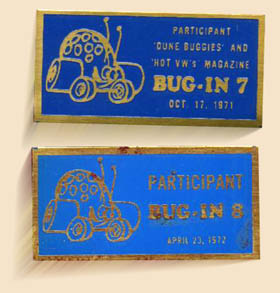 T
hese dash plaques for Bug-ins 7 and 8 come from my personal collection. I have to send a big Thank you to
Jack SPENCER
for providing them for me.
I now own 8 plaques and I love them. Bug-in 8 plaque is very important for me as the meeting was held on 23th April 1972 and I was born on 18th April 1972... Pictures will come in near future...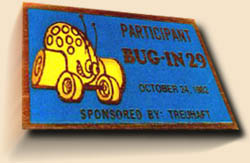 T
his Bug-in 29 plaque held on 24th october 1982 belong to
Glenn MILLER
. Note that this particular event was sponsored by the late
TREUHAFT
VW accessories Shop.
Own some Bug-ins dash plaques and want to see them here, just feel free to email me...
---
Copyright © 2003 El Dub - Tous droits réservés.

E-mail : eldub@cal-look.com