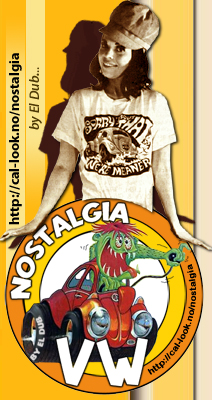 El Dub's Nostalgia corner.

Meetings, cars...

Treasures from the past.

Memories, people, meets.

H/Gas, I/Gas...

EMPI, Auto-Haus, R/S...

VOLKSWORLD SHOW '03
M
y first Volksworld Show was definitely a real blast! I enjoyed this one of a kind indoor show and can't stop asking myself why I didn't attend this great event before. The same apply to my french friend Fred.
M
any guys try to finish their winter project in time for this season opening and that's a great opportunity to check them all before the usual magazines coverages. This year was no exception. Add the opportunity to listen to Keith Seume in a saturday conference devoted to the California Look (with never seen pictures of the good old days...) and you can now understand why this show is very special.
A
nd being the Nostalgia guy I am, I can't resist pointing that one car was for me the real hit... This definitely not means that others cars were not greats, it's just means this particulaur car was like no others and was Nostalgia perfect...
P
icture on right shows the Saturday night Cal-Look dinner at Morland.
From left to Right : Masatake 'Mike' Ishiko, Karsten from DFL, Gerd Weiser, Paul Rui, Me with a spotlight on my face..., Serge Le Flohic, Georg Otto, Sven Zimmermann, Laurent Boss, Kobus and Matthew Sanchez. Image is a Thumbnail...
Well, I was strictly speachless when I first saw Russell RITCHIE V8 powered Bug... The car of the show for me... When was the last time you were able to detail such a radical period racer... Crazy!

Aren't those pictures awesome... Personnaly, I can't stop looking at them... Hey Russell, do you really think you will keep smiling when the starter tree will go green... *Laughing* Russell is currently looking for history of that car... Hope he will be able to track some interesting facts...
T
his Gasser replica was a very well inspired car... I fell in love immediately with this
Deano's VW
... Color scheme is perfect, as are the faded stickers, the rims, the rear flared fenders and the stance... Unfortunately, I have no idea who is the owner of that awesome machine... I'm not sure about the front hood, as I never seen anything like that before but it sure adds to the general feeling... Looks like Audley Campbell old Stutt Bee without chop top...
I
love those displays... This one was at the Wolfsburg Performance Stand.
-
This pure Old School bug was awesome too... Details were second to none. Well done to the owner!
-
A cool inspired cabrio from up north... Note the Foxcraft fenders... Satin paint with ERCO rims are a great combo... Neat.
- Boulevard Bomber
in real life at least. It's been years since I first saw that car and it was the first time I have opportunity to detail it.
- Triple 6
was a great new car too. The stance of this all black is stunning. A very well inspired bug! Hey, ERCO rims are everywhere these days...
-
Another new car making its debut was this mega detailed blue bug devoted to an enthusiast who made everything on it less the engine... Note the asymetrical scoop on the decklid. Attention to detail was everywhere.
-
Best of show this year was this crazy metalflaked Razor edge on new J.G.E. polished radar wheels. Neat car really!
-
Cool looking low light Ghia...
-
A very very cool street Buggy. Good choice of tires. Looks awesome from rear, no?
-
Mathew Sanchez Old School bug making an appearance and an Old School making its debut at the show : Great color and great Porsche Rims.
-
Some swap meet finds... The EMPI SOLEX carb kit was highly desirable and came from sweden... Asking price was 800£... I wish I had the cash... Unusual rims were desirable too and would look great on any late model car...
-
Real BRMs or what...
---
Copyright © 2003 El Dub - Tous droits réservés.

E-mail : ldubois@calixo.net