G
lenn saw David Andrews and asked for some comments about working at the Race Shop, he remembers, here are his comments " I bought a new 67 Bug and was and was soon transfered to March Air Force Base in Riverside, one afternoon while leaving a local sandwich shop I noticed a Race Bug in a garage across the alley, on closer inspection, "My God it's the EMPI Inch Pincher " so I stopped in and met Darrell Vittone, we hit it off, and I then went to work for them ! "
H
e adds some funny memories : "The Schley brothers dragster was delivered to the shop and when we added the steering wheel and turned it to the right, the wheels went left. One of the bros said "It's OK, I can drive it that way". We all laughed and we reinstalled the rack & pinion steering properly, seems it was installed upside down. One other time while trashing on the Lightning Bug sedan to get race ready a slip with a power drill put a hole right trough the freshly painted body, a devastated look overcame the bros... Vittone walks over and installs a decal over the hole and sait "It's fixed".
S
ome parts supplied were Race Shop exclusives, like the 89mm pistons which were designed by Mahle in Germany, wow bigger & better than those legendary EMPI 88s. These were exclusively distributed as were the Race Shop exhaust systems.
Picture above shows a smily Darrell at the wheel of the Inch Pincher... Love this old school helmet...

Picture on right (provided by Glenn) : A proudly Dave Andrews with his '67 (more on this one later...) outside the Race Shop facilities...

Picture below (another one by Glenn) : Dave Andrews wrenching the Inch Pincher trans... Note the Inch Pincher too off-road car on the foreground... (Pictures of this car are very very rare...)
.
T
he new quarter included an engine assembly clean room, a dyno area, Cylinder heads area, Fab shop area, 3 bay with a lift rack ans outside a wash rack, storage building and a paint booth. The shop also had the job of doing engine work and other various Economotors projects for Joe, like Salesmans demo cars, performance work, outside engine and transmission jobs, suspension mods, disc brake conversion, installing race parts...
O
ver the years those working at the Shop were of course Darrell Vittone - the Boss, Dave Andrews - right hand man. Fumio Fukaya, the VW Head wizard, was added in 1972. Some full and part timers were Jim Bentley - Mr PR, , Chas Morris - Ace welder and Fab man, Leon Schindele - Paint & body whiz, Roger Kessinger - Suspension & Fab man, part timer Tony Martin - welder & Painter, Bill Bransford and the Whale, Bob Hibbard as gophers and crezman Jim Rudolph.
A
fter a few years, the Race Shop was moved again to a much larger building located in the rear of Joe Vittone, Economotors VW dealership at the Riverside Auto Center.

THE RACE SHOP : The Type 2 Tow vehicle.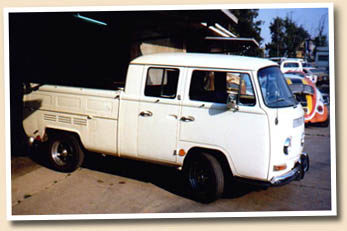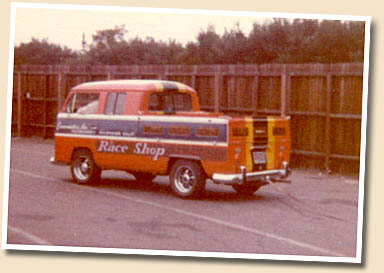 I
t's not often you see Type 2 VW on this site, right? Well, I love Type 2, and when I heard that the Race Shop used to own a Bay Pick-up for delivery and for towing race cars, I thought that I had to show it here...
A
t first, the pick-up was factory delivered in white but sports some cool EMPI rims. Picture by
Glenn MILLER
is a thumbnail... Note the Slalom Bug waiting in background of the Race Shop facilities... Great picture. It received sometimes after a new paintjob showing the Race Shop colors scheme... This picture taken at Bug-in 10 (or 11...) is Awesome as I never saw this bus paintjob before, in any books, in any pictures... Picture is from
Steve WALKER
of Las Vegas
(More picture of Steve will follow soon, and believe me that worth the wait...)
.
T
hanks so much guys to share these treasures from the past with us...
---
Copyright © 2003 El Dub - All rights reserved.

E-mail : eldub@cal-look.com