I
n the first part, we saw how Joe Vittone filled the gap for performance parts that Volkswagen of America (VWoA) had ignored and how he built it into an international business. We also covered the ascendance of the EMPI Inch Pincher dragster and how Joe learned that racing politics is even worse than business politics. In this section, you'll learn about the EMPI GTV and how Joe almost lost his dealership because of it. With his performance items selling well, Joe Vittone turned his attention back to EMPI's bread-and-butter product line: appearance and dress-up items. Most domestic automobile manufacturers offered at least one 'special edition' per model year, usually offering nominally upgraded dress up items and trim that enhanced the vehicle without changing it's essential character. Vittone observed that the simplicity of the Beetle and the lack of Special Edition 'packages' encouraged people to customize their car themselves and, reflecting on the youth culture, considered that if VWoA was not going to make a flashy Special Edition Beetle, he would. In Vittone's unique position as head of both a successful VW dealership, and the head of the very successful EMPI, why not offer brand new customized cars, with warrantees from the dealership?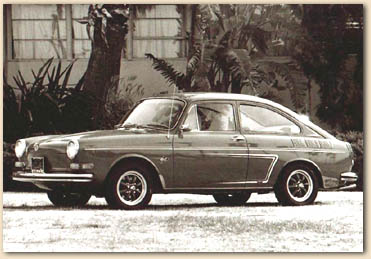 Left picture : Empi Type III GTV Fastback - G. Miller
The result of this master-stroke was the EMPI GTV, a stock Beetle, Ghia, Fastback or Squareback, outfitted with luxury and performance options designed to make it feel like a racer without being one. These packages (GTV MkI, MkII, etc.) started with the improved suspension components and added interior wood trim, fancy wheels, gauge clusters, and other niceties as the customer moved up the range. Ironically, the fully outfitted EMPI GTV Mk IV cost a mere $1200 US additional, for a total price far less than any stripped down domestic could even compete with. Vittone sold the GTV vehicles complete from the showroom floor, not as a service to be added after the deal was signed. He felt that having to wait to have their car customized would drive customers into the unmodified stock Volkswagens, so every GTV had to be ready to roll out the door at a moment's notice.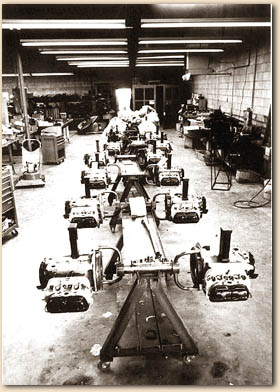 Right picture : Empi engine division - G. Miller
T
he introduction of the GTV in 1966 was an unqualified success. When Joe observed that many VW dealerships were also stuck with VWoA's minimalist offerings, EMPI developed a complex distributorship with other VW dealers throughout the country, selling the GTV kits and literature which told the dealer how to build, market and sell the GTV in their region. The marketing wasn't subtle; EMPI sales copy even suggesting that a customer only be shown an unmodified Beetle if they ask for it specifically.
E
MPI republished reviews that had appeared in popular magazines as independent evidence that the GTV was the best value sports car any consumer was ever likely to own. Joe Vittone had again filled the marketing gap that VWoA had steadfastly refused to address. In Clifton Heights, New Jersey, however, Volkswagen of America was unhappy with EMPI and unhappy with Joe Vittone.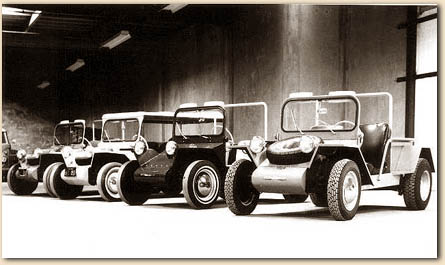 Left picture : EMPI Sporters, celebrating the dune buggy craze - G. Miller


I
n the early 1960's, Bruce Meyers built a fiberglass dune buggy on a shortened VW pan that touched off a craze which continues to this day. The Meyers Manx was simple. Too simple, it turned out. Everyone from Montgomery Ward to Sears began selling knock-off versions of the Manx, and Bruce Meyers couldn't bring suits to court fast enough. Unfortunately for Bruce Meyers, the courts didn't think he had anything worth suing over and so cleared the way for anyone to make a 'dune buggy' whether is looked like a Manx or not. Bruce Myers was driven out of business by the copycat craze, and original Manx buggies are now highly desirable. Joe Vittone decided to build a better Manx than Bruce Meyers, and in 1966 debuted the Imp, a dune buggy of EMPI's creation designed to cash in on the buggy scene popularized by the Meyers Manx. The IMP sold well, but was virtually lost among the sea of competitors
(See the IMP section on this corner for more on the lovely IMP : IMP section)
.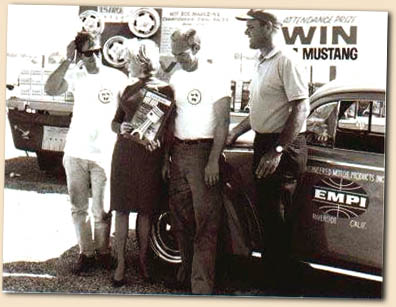 Right picture : Darrell Vittone (left) and Dean Lowry (inside right) are pictured with a young Brock Yates (Car and Driver fame) in the winner's circle at the Hot Rod magazine drags held at Riverside Raceway. Dean & Darrell both drove the Inch Pincher that day, and both won their respective events (H/Gas & Comp./Eliminator) - G. Miller
T
oday the Imp remains a valuable and fascinating alternative to the Manx. At the end of the 1960's, Joe Vittone and EMPI were on top of the world. The Inch Pincher was such a common sight at drag races that it's presence had come to be considered less of a novelty and more of a fixture at such events. EMPI was the premiere manufacturer and developer of VW performance and appearance items in the world. Then it all fell apart; not all at once, but quickly, like a row of dominos. 1968 saw EMPI developer/engineer Dean Lowry leave Riverside to start his own company, Deano-DinoSaurs (Joe Vittone called Dean "Dino" and the nickname stuck). Lowry's engines had become a legend in their own right, and Dean and his brother Ken decided to set-up their own shop in Santa Ana. While Deano-DynoSaurs only stayed in business until 1972, the departure from EMPI drove a wedge between Joe Vittone and Dean Lowry.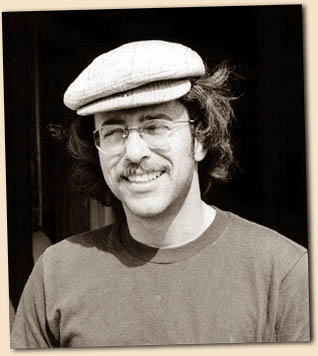 Left picture : A young Darrell Vittone - G. Miller
W
ith the departure of Dean Lowry and VWoA's full frontal attack on Vittone's novel notion of selling pre-customized cars with warrantees, Joe decided it was time to look at other business opportunities where suppliers wouldn't be as controlling. Since EMPI was an unqualified international success, Joe decided to sell the company and get back to Economotors, perhaps looking for other untapped market gaps that the corporate monoliths had overlooked. In early 1970, Vittone agreed to a stock swap with Filter Dynamics, the parent company of Lee Automotive Filters. Vittone got stock in Filter Dynamics, and EMPI's success should have kept him financially in the pink for years. After the sale of EMPI to FDI, Darrell Vittone (who remained an EMPI employee, despite the fact that his famous father no longer owned the company) tired of hearing people laude the Inch Pincher as "the car that Dean Lowry built." By 1970, so little of the Inch Pincher still represented Lowry's work that Darrell decided it was time for a dramatic change. The change came in the form of a new race car named the Inch Pincher Too, which amounted to a new body placed on the old running gear. With a bizarre paint job and a massive amount of the body replaced with Fiberglass, the car broke records by running times down into the 11-second 1/4 mile bracket. After two years under the new management, however, Darrell Vittone decided that it was time to get out as well, leaving EMPI in 1972 to open The Race Shop. Since the Inch Pincher Too was now FDI property, however, Darrell had to leave behind the car that he had spent years working on.
---
Copyright © 2003 El Dub - All rights reserved.

E-mail : eldub@cal-look.com