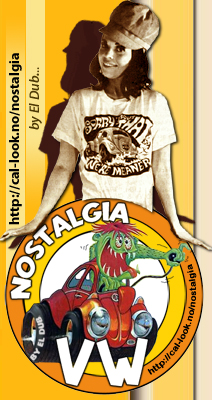 El Dub's Nostalgia corner.

Meetings, cars...

Treasures from the past.

Memories, people, meets.

H/Gas, I/Gas...

EMPI, Auto-Haus, R/S...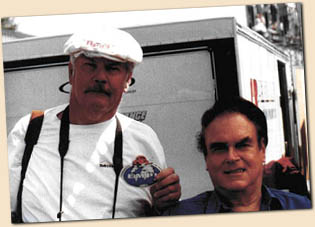 Glenn MILLER is one of those guys who was where the action was in the good old days... But, Glenn was a photographer, and he always had his camera on hand! Today, his pictures are nothing less than treasures from a bygone era...

Glenn is friendly enough to share his treasures with us, and you will find many of his awesome pictures on the site... In fact, I'm sure this nostalgia corner wouldn't be the same without Glenn's help! So, again, all the Cal-Look.com team join me to shout : THANKS FOR YOUR PRECIOUS HELP GLENN!

Picture on left shows Glenn with Richard GUARINO of the late EMPI of New-York. Picture was taken in California in Spring 2003. Note the highly desirable EMPI of N.Y. Globe sticker in Glenn's hand... A collector today as I don't think that copies of these ones are made today...

INTRODUCING GLENN MILLER from TRACK SIDE PHOTO...
G
lenn Miller, Automotive Sports Photographer from 1958 through today. Glenn spent much time during those early years at numerous, and now legendary tracks in the Southern California area, including: Colton, Riverside, Pomona, Fontana, Carlsbad, Orange County International Raceway, Bakersfield, and Irwindale Ascot & Elsinore.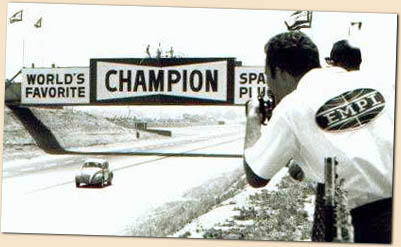 D
uring this period, Glenn was one of the EMPI Photographers. As a result Glenn has accumulated over 5 thousand automotive images, including numerous photos from the original EMPI, Revmaster, Bug-Ins, and Drag Days at OCIR, and Sports Car Racing, SCCA, SCTA, Bonneville, NASCAR and Trans-Am, Can-Am Racing, and currently Madras Speedway, to name a few.
Picture at right shows a young Glenn Miller at the 1964 Hot Rod Magazine Drags at Riverside, California, shown in his EMPI garb doing his job, photographing the Inch Pincher as it crosses the finish line! - G. Miller
G
lenn has some great vintage photographs . These fabulous photos document the start of the VW Scene in Riverside from the early, formative days of the '60s to the heyday of the mid '80s.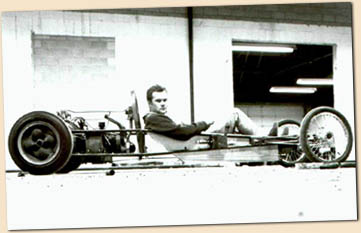 Glenn Miller seated in the first VW-powered dragster in Southern California, circa. 1963. - G. Miller
G
lenn Miller, VW Guy, EMPI Historian Bonneville Photographer (Al Teague.com) (Cal-look.com Historian) 1320 Group History Photographer (Nitroparts.com) Hot SpringsEvaluation Expert ! Resource Management Specialist (old Cars) Racer, Motor Man <--DOUSER--> Plays Mean Acoustic Blues Guitar, lets boogie !!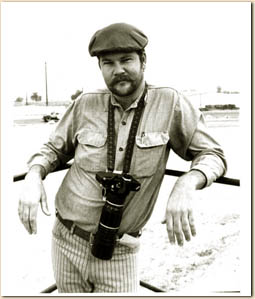 Glenn Miller at Riverside Raceway Drags 1968. Photo by Leon Schiendele.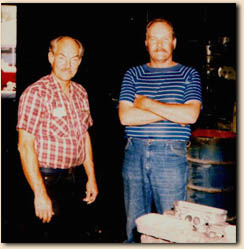 In this awesome picture never seen before, we can see Glenn standing next to Deano... Note the big port cylinder head. Picture was taken in 1980 on tour at the ARPM Foundry in California where his cast products were produced, Superflow Heads, Manifolds, etc... Picture is a thumbnail!
A
gain, we have to highly respect Glenn MILLER for what he made for the VW trends in the good old days, and for keeping the legend alive today by sharing his old memories and pictures with the young guys...

W
ant to check some Bug-in pictures from Glenn, click
here
!


And keep posted for some more treasures from Glenn soon...
---
Copyright © 2003 El Dub - All rights reserved.

E-mail : eldub@cal-look.com