W
hen I entered in touch with
David MAYES
some months ago, it quickly became clear that this guy was a serious collector... But I had never imagined that I was exchanging emails with someone that was one of the most serious collector of Nostalgia VW parts of all kinds... His collection is simply out of this world believe me... But before entering David wondeful world, what about some words about his profile...
H
ere some words David wrote for me to put here... Thanks my friend!!!
"
I got into the VW scene in the early 80's while in college. In high school, I had a H*nda which I had mildly customized but it ended up being totaled (I was unscathed). After the accident, I was looking for another car and a bug seemed to be a likely candidate. The overwhelming factor in my decision was the fact that there were several magazines at the news stand dedicated strictly to VWs, customizing parts were readily available, and there was a strong sense of a 'VW community'.
So, I found and bought a 72 beetle. I drove that car for about 6 months without doing anything to it except change the oil when my college roommate's cousin decided to sell his 75 scirroco. I liked the scirroco so I sold the bug and bought the scirroco. I still have that car today. Through college, graduate school, and then starting my own business, I had little money to spend on toys but I found the VW marquee and the people associated with the 'VW scene' very friendly and supportive which kept me interested and involved.
My craze with air-cooled cars came when my wife bought me my 59 double cab and then a year later when I bought her a 58 ghia vert. I found 'vintage speed' sometime in there and the rest is obvious.
Today, thanks to the internet, I feel I have VW friends around the world and the sense of a 'VW community' couldn't be greater. I'm elated to be part of it. Hopefully my collection will continue to grow. Vintage wheels will always be a focus but I'd particularly like to find more Speedwell goodies as well as a few more *early* empi items, all destined for two future project cars I want to build. Of course, I'll never turn down a good deal for any cool VW items :-)
My hat is off to people like you Laurent that have great web sites to keep this great hobby exciting. I look forward to the day when I can make it over to Europe for a VW show and meet in person the many people I have had the privilege to correspond with through email.
May this hobby continue to experience a strong following..."
I
hope so too!!!

LITERATURE !!!
S
hould I mention again that old Nostalgia VW literature always played a big part regarding my enthusiasm... I guess no... I own today many many cool old yellowed papers dealing with VW, but when I saw David's literature, I was on my knees to say the least...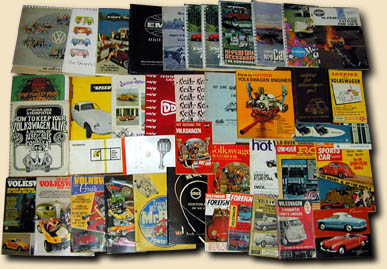 N
ow that's a serious collection or what... Awesome picture! Aren't you green with envy? I am!!!
Image is a thumbnail, just click it for bigger details...
I
especially like :
- The 7 EMPI catalogs...
- The EMPI Dealer catalog.
- The 2 Deano DynoSoar and SCAT catalogs...