A
s I explained a while back in the first part of this section, cool inspired customs Volkswagon can be very tasteful... only if all the modifications that are made are reversible and doesn't alter the original bodywork of the mighty VW...
A
nd this explain why exterior accessories are so important... In no particular order, we can say that Buggy type T-bars are a must, as are any fiberglass appendice (see right column for more about fiberglass) that can enhance the look of the car and make it YOUR bug!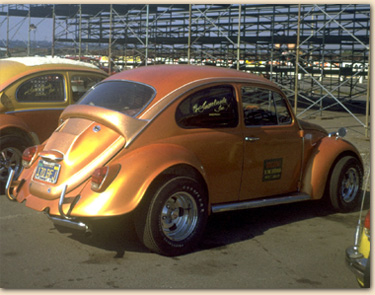 A
bove picture from the early Bug-in era by
Bob HOFFELD
shows perfectly what is involved in the Custom Look as far as exterior is concerned... Big wheels, fiberglass parts, big T-bars, cool metalflake paint...
A
nother picture from
Bob HOFFELD
. A truly inspiring custom bug... A car to copy ASAP... except for the ugly rear T-bars of course... The paintsheme works great... Letterings on the quarter windows scoops sur add to that look
'Keep on buggin...', 'Volkschancelor VW club'
... I especially like the Cragar rims usually seen on US muscle cars or sometimes on dune buggies.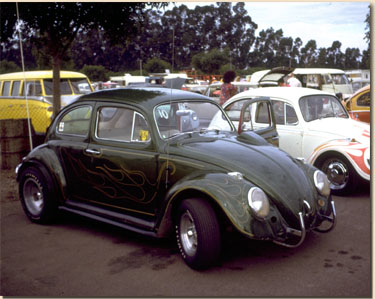 S
ame era, same Bug-in... Note the subtle flames and the big front hood scoop... T-bars looks a little too big on this one, as looks the giant antenna...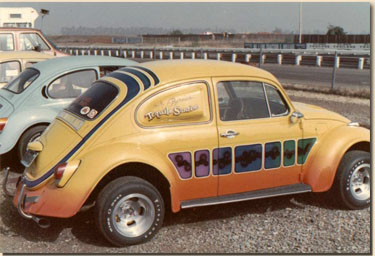 I
was wondering if I had to show the picture of this ugly bug... But I finally decided I had to... First because it's a Bug-in picture by
Mark SCHMIDT
. Second, because of the quarter window scoops that are never seen today... Well, I admit they look a little out of place on a bug, but if you want to be different... Please don't copy the airbrush paint...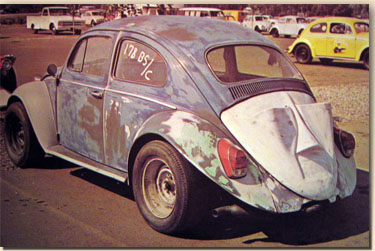 A
nother very interesting picture by
Ed RADLAUER
from a very very early Bug-in... This bug is prepared for that Custom Look... I love those ugly rear decklid... Note that the rear wings have been redesigned...