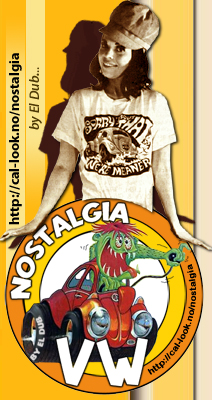 El Dub's Nostalgia corner.

Meetings, cars...

Treasures from the past.

Memories, people, meets.

H/Gas, I/Gas...

EMPI, Auto-Haus, R/S...

SPA FRANCORCHAMPS MEETING '03
Definitely, Annual Bug Show held at Spa Francorchamps Grand Prix racetrack is one of the most exciting VW meeting of Europe... Seems that every year, the show is busier with cars out of this world...

As usual, pictures below are really not exhaustive of the cars that were there, but below are my personal favourites of the year...
-
Marron Baboon from Norway was my favourite car this year... Is it really a surprise? Awesome!
-
Another very cool inspired oval car from Germany running on real EMPI 5's and equipped with some DDS goodies...
-
This one of a kind Split window simply rocked... Note the narrowed beam and the headlights grille... I loved the black bonnets and decklids...
-
Three good stance cars... Note the white one : late model and looking great! An example to follow...
-
Kobus did it again... His EMPI IMP¨was simply flawless... Crazy! Argh, this metalflake rocks!
-
German split window already seen at Camberg, but it was my first time with it... Looked great...
-
Ghia of the show... Definitely... This lowlight was stunning on those Ercos... The stance is perfect!
-
Very, very cool cabrio on fuschs alloys...
-
DAS Meyers Manx were nostalgia perfect...
-
The blue car running on Gasburner belongs to a German DFL Club member...
---
Copyright © 2003 El Dub - All rights reserved.

E-mail : eldub@cal-look.com