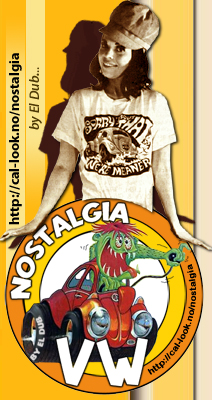 El Dub's Nostalgia corner.

Meetings, cars...

Treasures from the past.

Memories, people, meets.

H/Gas, I/Gas...

EMPI, Auto-Haus, R/S...

SPA FRANCORCHAMPS MEETING '02

THE SHOW :

Another great one at Spa this year!!! Boy, without a doubt one of the greatest european VW show... This show has it all : cars, sun, parts, race, naked girls, entertainment... Definitely a great show...

Unfortunately, this year, I had to visit the show in my wife's NB... Sorry 'bout that! We leave with my friend Thomas on Friday and arrived on the racetrack late afternoon in a full camping area... We soon find friends Fred, Eric, Jeff, Fabian, Stéphane... for some late chats, a beer in one hand and... Well... Cars came from every corner of Europe : Germany, Sweden, Austria, Finland, France, England and of course Belgium... Hey, when was the last time you had opportunity to chat with DKP member Steve BEECHER who seemed to have a great time there? Only at Spa... Crazy...

Well, enough said, here are the pictures. Note that I have decided to show here only the cars that desserve a special mention this year, as some great ones were already on attendance previous years... Hey I don't want the site become a monster on my server's provider ;)) Just look at others well known sites if you want some more pictures...
-
Is it a great looking beach buggy or what? Attention to details on this one was second to none. Loved it.
-
This old US drag racers now resides in Germany... Looks very 80's!!! Note the pinstripings and the louvers on the decklid.
-
Definitely not a war vehicule... Note the stance and the rims... Want these all new germans rims? Be very quick as the production is said to be very very limited... Not everyone cup of tea but could look great on some cars. Note the abarth exhausts... Crazy machine!!!
-
Swiss Christophe was on attendance with is all new late model K.G. Who said late model K.G. are not good looking enough? Just slam them, put some gasburners, a cool paint scheme and you're the king...
-
Walter JELINEK Type 2s... This german guy sure knows how to make shit machine look awesome in a pure rat-look style. Keep up the great work Walter!
-
Cool Barndoors... The grey one is Paul Rui on from Norway. Remember is brown Split window? This Porsche Barndoor is one of the best inspired car I have ever seen. You should have seen the old period poster in the Type 2... Crazy...
-
Another awesome Barndoor is Kai AULANKOSKI coming all the way from Finland... This bus is EMPI powered... It's not everyday you see SPEEDWELL Sprintkit... Note the cool licence plate. Kai told me that this one was not cheap in Finland...
-
Another VW coming from the Up North : a ragtop sitting on Ansen Rims. Always a pleasure to see rims like these ones...
-
Fast Scrap looking good as usual
-
Another late model K.G. Note the rare rims... They were offered by some old VW dealership...

ACTION :
I
didn't managed to look at the races as I was so busy in the show and swap areas... Fortunately, my friend
Frederick NOEBERT
did it for me (he was busy all days at the run's starter...). Enjoy his pictures are such pictures are not common, to say the least... Note that all of them show cars in action. Great. Thanks again Frederick!!!
---
Copyright © 2003 El Dub - All rights reserved.

E-mail : eldub@cal-look.com