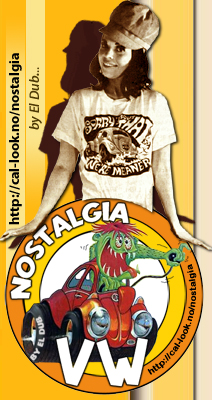 El Dub's Nostalgia corner.

Meetings, cars...

Treasures from the past.

Memories, people, meets.

H/Gas, I/Gas...

EMPI, Auto-Haus, R/S...

PAST PICS OF THE MOMENT...
P
ast pictures of the moment shown on first page of the site are usually great... Right? So here they are, if you didn't already managed to save them on your H.D. Please, enjoy these few pictures as much as I did...

Miss HURST...

Jerôme stuff from France...

Bug-in dash plaques galore...

Bug-in vintage corner...

Lil Fiat 600 poVWered...

Alien BUG...

Heinz JUNG Tribute!

SSB Trailer...

Wheelstanders... again & again... Love them...

Black Widow..

Frenchy DEHOUX Looker...

BARDAHL Hemi-Bug...

Superbug wheelstander...

German Auto Bus...

Rare ASTRO rims...

Cool inspired cars..

Wheelstanders again...

Underdog's Parts again...

Monster Masher!!!

Old Gassers!

Gene BERG Tribute!

Anothers Wheelstanders...

Old VW Gassers never die...

Wheelstanders Type 2 anyone?

Cool pictures...

Nostalgia pictures...
---
Copyright © 2003 El Dub - All Rights reserved.

E-mail : eldub@cal-look.com