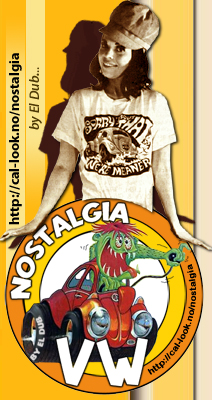 El Dub's Nostalgia corner.

Meetings, cars...

Treasures from the past.

Memories, people, meets.

H/Gas, I/Gas...

EMPI, Auto-Haus, R/S...


SPLIT NOSTALGIA PROJECT
As I said before, Eric sold his great Mr EMPI some times ago, but he kept all the nostalgia stuff for his future plans. When I arrived at Eric's home, little did I realized that there were a split window bug sitting in his garden, awaiting one magical treatment...
Here are Eric's plans : EMPI front hood (I loved it at first sight), EMPI rear seats and Genuine BRMs at all corners. I already see this gem in my mind. I'm sure it's going to be something really special. I think that the pictures speak from themselves. I especially like the front shoot : little windshield, tachometer hole in front hood and split window. I have to note that it was approximately 105°F in Phoenix while I was shooting the car, and believe me, that's crazy. In fact, my skin became red in 5 minutes ;(( But the car worth it...

'63 Mr EMPI
Here was Eric's old trusty '63... Unfortunately, this very special car had to gone... And no longer exist in this state... But, I have to show you this car as it was a very impressive one... I met Eric thanks to this car spoted at Phoenix Bug-O-Rama in a magazine...
Sure, it was a cool ride...
Car's interior was stunning with all those genuine EMPI parts. The gauges looked ultra cool.
---
Copyright © 2003 El Dub - All rights reserved.

E-mail : ldubois@calixo.net