A FRENCH TRIBUTE
TO THE PIONNEERS OF VW DRAG RACING
---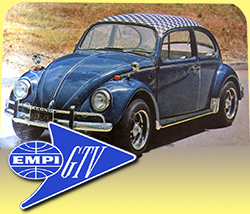 I
have to reckon that this very special GTV intrigues me for a so long time... First time I saw it was in the first edition of the famous
Complete Volkswagen book
edited by Petersen in 1969... It was a black and white picture and it was difficult to know the exact color of the beetle... It was clearly a 1967 GTV...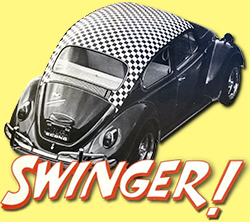 B
ut why a checkerboard roof on a GTV? I had never seen such an add-on in EMPI period catalogs...
T
he very same GTV appeared in two pictures from
Glenn MILLER
right next to an early Inch Pincher in an EMPI shopping mall display with lovely girls...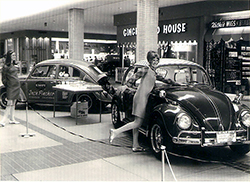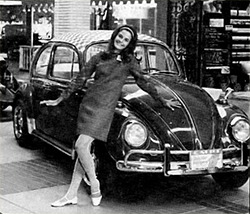 W
ell, seems I have found the answer recently in an old issue of Rod & Custom from 1967 in an article :
Go Mild or Wild with paint-on vinyl
... According to that article, seems that EMPI and COLOR-HIT had a deal to show on a brand new GTV the all new paint on vinyl that will not fade, crack, chip or peel... Masking that checkered roof must have been a huge time consumer effort, but it looked soooo cool...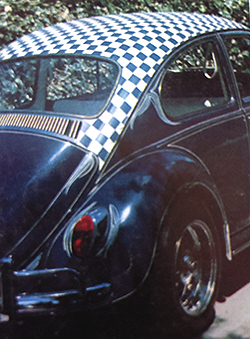 T
he COLOR-HIT paint could also be used inside the car on vinyl seats as shown below on the very same GTV...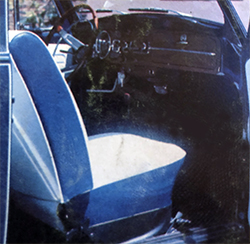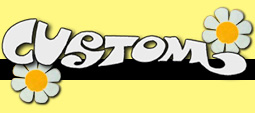 Rainbow Custom Bug !!!Y
ou all know I have a big passion for 70s Custom VWs... The sky is the limit as far as paintschemes are concerned and that one sure is no exception... Look at those big fatty rear fenders... Perfect example of a Groovy Custom...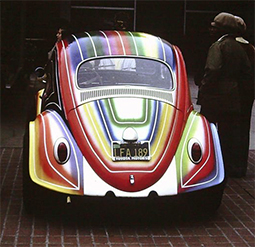 Lil' Fat Ass Bug !!!N
ever seen before Custom bug with bus rear lights... Looks a like a big toy... Absolutely perfect in every way...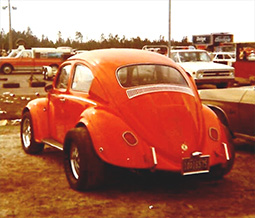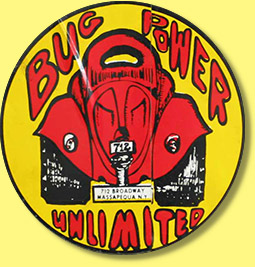 J
ust some words about an unknown speed shop from back in the day :
BUG POWER UNLIMITED
from the US east coast... The shop was located in MASSAPEQUA, NY and owner was
Joe ARAGONA
. The shop used to sponsor some cool gassers and later became International Motor Shop in the early 70s when VWoA's lawyers objected to the word "bug" in the name. I found 3 different sponsored gassers on my archives : 2 bugs and a Ghia. Above logo was sent to me by
Glenn RING
. Joe is now retired but still does some work for friends from what neighbour Glenn told me.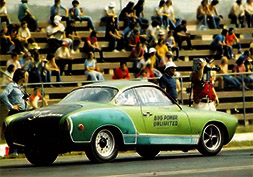 Ed HANNA and his Bug Power unlimited sponsored I/Gas Karmann Ghia.
Black & white pictures of Bug Power Unlimited and the Flew bug racing at New York national speedway.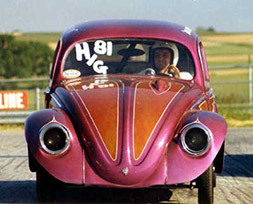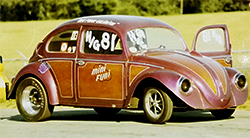 Mini Funi very cool H/Gas with its spindle mounts front tires and unusual shaped front wings.